Remembering Clint Davy: Monday January 27th, 2020, 2pm
It is with great sadness that we announce the passing of Clint at his home on January 18, 2020, with his loving wife, Irene, by his side.
Clint was born in Inverness Scotland but moved to Glasgow and at the young age of 16 joined the Royal Air force for 10 years. Shortly after leaving the Air force Clint met Irene, they got married and emigrated to Canada in 1976 initially living in Richmond where Clint worked for CP Air and other airlines.
Together Clint and Irene became actively involved with various animal welfare societies and Clint appeared on numerous television and radio shows speaking on behalf of the animals. For many years he was President of the Wildlife Rescue Association of B.C., of OWL Orphaned Wildlife Rehabilitation Society, and of the Wildlife Rehabilitators Network of BC. Clint served on the Board of the Reifel Bird Sanctuary, the Vancouver SPCA and the Provincial SPCA.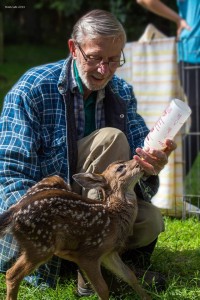 In 1988 Clint and Irene moved to the Sunshine Coast and founded the Gibsons Wildlife Rehabilitation Centre. He was shelter manager and special constable of the Sunshine Coast SPCA for seven years. In 2012 Clint was awarded the Queen's Diamond Jubilee Medal in recognition of his spirit of "volunteerism and compassion" working with domestic and wild creatures.
Apart from his work helping animals, Clint's hobby was carving beautiful soapstone animals and birds and he was a talented animal portrait artist, working in a variety of media – oils, graphite, pen and ink, and scratch-board.
Clint leaves to mourn his beloved wife, Irene, his sister-in-law Marilyn Scott in Scotland and Aunt Millie Lipman in England, along with many friends. Clint had a deep compassion for animals and a special way of knowing how to help distressed wildlife when it arrived at the Centre. He will be remembered for his quiet gentle ways and will be sorely missed by many. Special thanks to Dr. Ben Bauer for his care of Clint over the last few months and to Leroy McLellan for his support and for being there when he was needed most.
There will be a huge furry and feathered gathering in heaven, Clint, anxious to see you again!
A service will be held on Monday January 27th at 2 pm, at Devlin Funeral Home  in Gibsons.
A reception will follow at High Beam Dreams (former United Church), Glassford Road, Lower Gibsons from  3 – 5 pm.  (Please note the location change. The reception is no longer at the Gibsons Legion.)
In lieu of flowers a donation to Gibsons Wildlife Rehabilitation Centre would be appreciated.
Wildlife Calendars make Wonderful Gifts and Support the Centre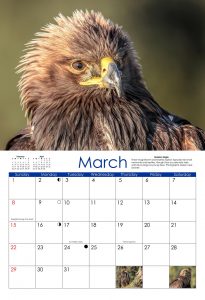 It's calendar time again! This beautiful 2020 calendar features all new Sunshine Coast wildlife images by local photographer Carl Olsen.
Measuring 12.75 by 9.25 inches, it's printed on high quality opalescent stock to minimize reflections. The calendar is ad-free, leaving lots of space for daily planning.
Cost is $20. Both cash and cheques are accepted. All proceeds after expenses go to Gibsons Wildlife Rehabilitation Centre.
This calendar makes a wonderful gift, and is easy to post.
To arrange for pick-up (in the Gibsons area) or delivery anywhere on the Sunshine Coast, contact Carl by email at cbolsen@telus.net or by phone at 604-886-9381.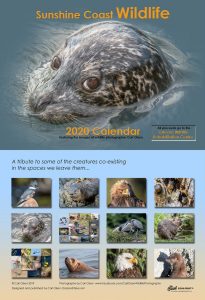 Cost of delivery of one or more calendars to a single location depends on location:
Langdale to Roberts Creek Road: $2
West of Roberts Creek Road to West Sechelt (included): $3
West of West Sechelt: $5
We are grateful to Carl for his contribution of his photographs and his time to fundraise for the wildlife rehab centre.
About the Wildlife Centre
Gibsons Wildlife Rehabilitation Centre is a non-profit, registered society, that admits into care wild birds and small mammals which are in distress. Each year we receive hundreds of calls on behalf of injured and orphaned wildlife. We provide for the animal's every need including feeding, watering, daily cleaning and medicating (if necessary).
Treatment may be as simple as providing proper food, water and warmth to an orphaned fledgling until it is old enough to be released to the wild, or as complex as an operation by a veterinarian to implant a pin in a broken bone.
Some species of birds will not eat on their own in captivity and must be hand-fed. Others may be too sick to eat and are tube-fed.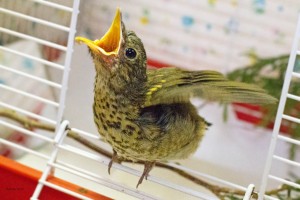 Fledglings and nestlings require feeding every 20 minutes to every hour, depending on the species and age of the bird (or animal). It may take several weeks or even months of care to prepare an animal or bird for a second chance in its natural habitat. All this must be done without destroying the animal's basic fear of humans, for, once on its own again, its life may depend on that natural fear.
Gibsons Wildlife Rehabilitation Centre has permits from the Canadian Wildlife Service and the Ministry of Water, Land and Air Protection to care for sick, orphaned, injured, oiled or stressed migratory and resident birds or small mammals, but we receive no government funding.
Along with birds of prey and other uncommon birds, Gibsons Wildlife Rehabilitation Centre takes into care song birds and species such as crows and pigeons, as we believe all wildlife is worthy of the best care we can give it. The rehabilitation of wild creatures from hummingbirds to Great Blue Herons, or bats to raccoons means special housing, diets and care. This is very costly and time-consuming work.
Each day humans are taking more and more from wildlife. Help us give something back.
Today, more than ever, wildlife has to endure loss of habitat (not just clear-cutting forests, but clearing of bush, shrubs and trees in backyards), pollution and human encroachment (including pet cats), all of which is having a negative effect on wildlife populations.
Each day humans are taking more and more from wildlife. We, at Gibsons Wildlife Rehabilitation Centre, are trying to do our part in giving something back. Please help us with this task.