Every year we hold a silent auction just before Christmas, usually in the hallways of the Sunnycrest Mall in Upper Gibsons.  There are many ways you can help support the centre through this auction.
Donate Items to the Auction
We gratefully accept new or almost new items valued at $15 or more. These might be home decor items, art work, toys, collectibles, etc.
Shop the Auction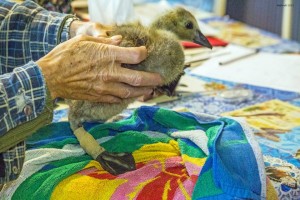 The auction is typically on a Friday and Saturday in late November or early December, in the hallway of Sunnycrest Mall. To bid on an item, you just write your name and contact information on the bidding sheet for that item, along with the price you are bidding. We contact the winning bidder of each item at the end of the auction. Buy a gift that gives twice!  Once to the recipient and once to wildlife.
Volunteer with the Auction
Putting together this auction is a lot of work. But it's fun and social and a great opportunity to volunteer with us that doesn't require an ongoing commitment. There are a variety of tasks involved. Contact us to find out what would suit your interests.
Tell your Friends about the Auction
The more people who know about this event, the more bids we can get! When you hear about the upcoming silent auction, please share it with your friends by email, word of mouth and social media.  To keep up to date on our events, and so that you can conveniently share them, we invite you to follow us on facebook.
Buy a gift that gives twice!  Once to the recipient and once to wildlife.